The Listowel Drama Group
Bryan MacMahon founded the Listowel Drama Group in 1944 and its motto was, 'The Stage Shall Never Die!' Bryan was a huge advocate of the amateur drama movement. He was also a talented playwright. His first success came in 1949 with The Bugle and the Blood, a play based on the Civil War. It was staged by the Abbey Theatre in 1948. The group entered the production in the Kerry Drama Festival in 1949.
Eamon and Maura Kelly began their acting careers with the Listowel Drama Group. The starred in the group's production of The Playboy of the Western World, in 1950. Maura played Pegeen Mike and Eamon played Christy Mahon. The photograph of the cast appeared on the front page of the Kerryman newspaper after they won the Kerry Drama Festival in 1950.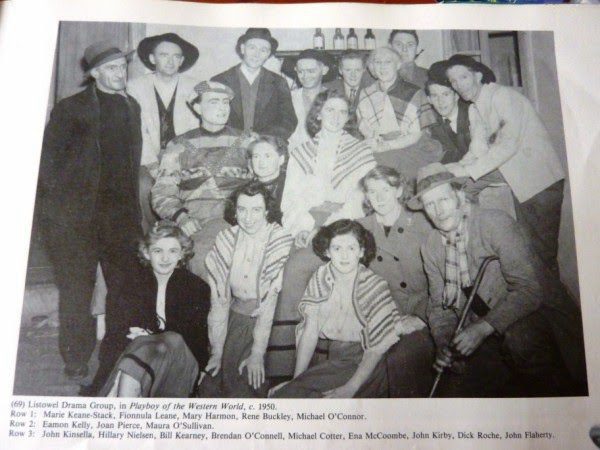 Photo From – The Kerryman newspaper
Amateur Drama Archive Poster Collection – catalogue number KWM.2016/0157
The Killarney Players
The Killarney Players were founded in 1939.
This photo is of a Killarney Players' production (unidentified play), during the 1940s. Seamus de Faoite, playwright and actor, is actor with beard. De Faoite's play, The Cardinal and the Crows, won the Kerry Drama Festival New Play Section in 1945.
With the rise in interest of amateur drama came the advent of competitive festivals. The Kerry Drama Festival was founded in Killarney in 1943. Spearheading its founding was the Irish Italian Jo Albericci, pictured here. She was a very talented director and founded the Hibernian Players in 1943. She eventually moved to Dublin in 1947 on the invitation of Abbey Theatre director, Ria Mooney, where she joined the Abbey School of Acting as Mooney's assistant.
Photograph courtesy of Victor Mulcahy
Sive
Sive by John B. Keane is synonymous with the Irish amateur drama movement. Listowel Drama Group premiered the play in 1959 in Listowel. It took the amateur drama world by storm and won the Al-Ireland Festival title in 1959. The group was subsequently invited to stage the play at the Abbey.
Like so many other amateur groups, Listowel Drama Group staged plays in other towns and villages.
So many groups staged so many plays down through the decades. What are your memories?
What people are saying about us
Popped in here to escape the rain and get a cup of tea and cake. Very reasonable prices and great service. Then noticed the little hare jumping around on the wall when I used the toilets! Looked very intriguing and prompted us all to buy tickets to the museum. Wow! So worth it as the exhibits and the way it was presented was lovely, really unusual. So informative and so different to other museums. Really good value for money and a real highlight to the town.

Great Service (Trip Advisor Review)

Most impressive is how ingrained in both The Creative & local communities The Seanchaí is, from the workshops, coffee mornings & plain old drop ins, To Book launches, poetry recitals, projects & engagements with the local schools. The Seanchaí is a much loved and universally treasured cultural icon. By the inhabitants of Listowel, most of Co. Kerry and West Limerick.

Mark Ollerhead (Google Review)

We had requested the 30-minute tour, but happily lingered for an hour longer than we had planned. As we exited, we looked at each other and laughed out loud at our good fortune. We could have so easily missed this experience that left us feeling moved, intrigued and a bit more educated about the Kerry writers. In our delight, we failed to tip our guide but I will be going to your donations page to make a modest pledge in gratitude for our host whose name we did not record to memory.

Jane Braswell (Google Review)

Our visit to the Kerry Writers Museum was a very memorable experience from beginning to end. Cara, who was working at the centre that day, was very welcoming and most helpful. The exhibition of the Kerry writers was imaginative and most engaging. The seanchai relating the background stories each writer was magic! A wonderful experience all round.

This museum has been developed with great care and meticulous attention to detail. The audio elements are matched perfectly to the installations which are beautifully presented. The option to activate the audio guides in each room without resorting to the use of handheld devices worked very well. This is a must see/hear for anyone with an interest in Irish writing. There is also a little coffee shop and gifts on sale.

Beautifully Curated (Trip Advisor Review)